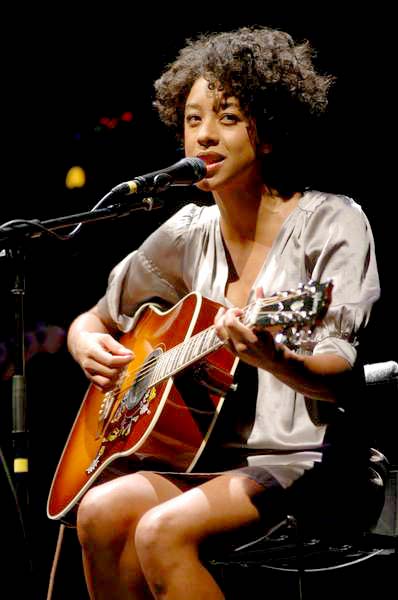 Weird thing is, Corinne Bailey Rae is apparently a household staple (at least if you listen to J), so influential that that same J named her 'the British songstress who can do no wrong' and yet, however many hundred posts deep into this blog we now find ourselves, I am yet to really embrace the girl BBC listeners labeled the breakthrough artist of 2006. And it's been almost five years. It's not that I don't know who she is. Trust me, I've had both brother and sister Z's plough the words to 'Put Your Records On' well and truly into my subconscious (pretty sure is the reason I bought a bike) and BR's choons have been flogged to within their last gasps at many a musical showcase at the ol' school. So why has it taken me so long to cotton on? Agreed.
Last night, lying in bed and catching up with pals on the telephone (old skewl, nudge that Facebook), it was our good mate Colin Ho and his fill-in role over at Radio 2CCR for last night's 'Urban Air' program that brought BR's brand of jazz-pop-RnB careening back into focus. Thanks Colin! 'Like A Star' is a song strong enough to rely purely on the singing chops of Ms Bailey Rae and, underscored as it is by the most minimal of guitars and brushes, is a masterclass in down-tempo soul. Being a sometime voiceover artist myself (long story), I get particular satisfaction out of the nuances of not only Corinne's sexy-as accent but also her myriad vocal inflections. J was right in drawing comparisons to that other bastion of soulfulness, Macy Gray. But where Gray succeeds with a veritable cocktail of quirk, charm and power, 'Like A Star' soars on undeniable beauty alone.
Which brings me, in a roundabout way, to the real subject of today's post: the unmitigated intellectual brilliance that Brother Z has displayed all year, culminating today in the achievement of a Higher School Certificate mark that really launches the lad into another stratosphere altogether. Filling in from time to time on this here blog, you've had a taste of the eclectic sounds that drive Z and it's Bailey Rae, alongside epic recording artists Tower of Power and munchkin jazz-man Jamie Cullum that have really come to define his musical disposition to date. There is a lot of introspection, reflecting on our favourite tunes, and a fair helping of self-aggrandisement propelling this blog. Today, we take a step back to honour, in the dulcet toned wonderment that is Corinne Bailey Rae, a One A Day brother in arms, a star. Congratulations Z, we love you.
Corinne Bailey Rae – Like A Star